The Mercedes-Benz EQ Lineup


Introducing the Mercedes-Benz EQB from Mercedes-EQ! This all-terrain, all-electric SUV is scheduled to arrive during the last stretch of 2022.
The EQB is based on the Mercedes-Benz midsize luxury crossover, the Mercedes-Benz GLB. The cabin and the chassis of the Mercedes-EQ EQB borrowed inspiration from the Mercedes-Benz GLB SUVs. The EQB is considerably heavier than the gas-powered muse:
The Mercedes-Benz EQB from Mercedes-EQ is 4,800lbs.
The base level of the 2022 Mercedes-Benz GLB weighs 3,638 lbs and can be as heavy as 3,869 lbs when outfitted with various trim levels.
This weighty spec from Mercedes-EQ is welcomed news! This solid EV delivers a more settled ride for its passengers in comparison to the Mercedes-Benz GLB. This noticeably stable driving experience is also due to its fixed ratio transmission: which keeps the torque equivalent to a specified ratio upon power input.
Mercedes-Benz of Smithtown is excited to share that the Mercedes-Benz EQB from Mercedes-EQ has new EQ-exclusive colors and trim options. The newest Mercedes-Benz paint release, Rose Gold Metallic, is under the discretion of Gorden Wagener, the Chief Design Officer for all branding and sub-branding under Mercedes-Benz. Under Wagener's experienced eye, the styling department also honed the Mercedes-Benz exterior with an even more sophisticated bodystyle.
Fun fact! The modern selection of the rose gold paint is one of Gorden Wagener's favorite colors.
It is very important to know, the top speed in the Mercedes-EQ EQB is 99mph. All models and trim levels of this electric crossover are electronically limited to 99 miles per hour.
It is also important to note that these electronic vehicles come standard with all-wheel drive, but there is a motor located at each axle and these vehicles are front-wheel biased.
The reverse backup camera is hidden behind the Mercedes-Benz flip-up star emblem, which keeps the high-quality and crisp lens stay clean until utilization. With DC fast charging stations, the EQB can charge from 10% to 80% in as little as 30 minutes.
Every EQB model features:
EQ-Specific Design Language
High-Efficiency Front and Rear LED light bands
Black Panel Grille
MBUX Multimedia System with Augmented Reality Navigation System with Electric Intelligence
10.25" Digital Instrument Cluster
10.25" Touchscreen Multimedia Display
Active Lane Keeping Assist
Blind Spot Assist
Active Brake Assist
Power Liftgate
18" Alloy Wheels
Reverse Backup Camera

There are two trim levels in the 2022 Mercedes-Benz EQB by Mercedes-EQ: the Mercedes-Benz EQB 300 and the Mercedes-Benz EQB 350. The Mercedes-Benz EQB 350 4MATIC® by Mercedes-EQ goes 0-60mph in roughly 6-7.8 seconds and is accompanied by 288 horsepower and 388 lbs-ft of torque. The Mercedes-EQ EQB 300 has 225 horsepower and 288 lb-ft of torque.
It is important to note that on all models and trim levels, there is third row seating available to be outfitted. If customers need a larger passenger capacity, fitment can be installed for up to 7 passengers.
The Exclusive Trim features:
All features from the Base Trim
KEYLESS GO Package
Wireless Phone Charging
NFC Pairing
Premium Audio System
Trimmed Door Panels
Bright Metal Trim
Available Rose Gold Interior Accents
Automated Emergency Braking with Pedestrian Detection
Dynamic Select Drive Modes
Blind Spot Monitoring
Forward Collision Warning
Lane-Keeping Assist
The Pinnacle Trim features:
All features from the Base and Exclusive Trim
Surround-view Camera System
Burmester Sound System
Panoramic Glass Roof
Lane Departure Warning
Lane-Centering Feature
Semi-Autonomous Driving
The 2023 Mercedes-AMG® EQE has no set price yet and little information in regards to charging capabilities, but additional details have been trickling in. Mercedes-Benz of Smithtown will keep all of our wonderful customers in the loop as we find out more. The 2023 Mercedes-AMG® EQE accentuates sportiness and is considered the electrified alternative to the conventional E-Class from Mercedes-Benz.

The Mercedes-AMG® EQE has roughly 617horsepower and 701lb-ft of torque with a top speed of 137 mph. If you purchased this EV with the AMG® DYNAMIC PLUS package, it upgrades to 677 horsepower and 738lb-ft of torque, with a top speed of 149mph. The AMG® DYNAMIC PLUS Package boosts the Mercedes-AMG® EQE and goes 0-60 mph in 3.2 seconds. As this model is manufactured in collaboration with AMG®, these vehicles harbor the AMG® Performance 4MATIC®+ system.

The Mercedes-AMG® EQE has a spacious cabin and shares styling cues with the Mercedes-EQ EQS, but strays from expectations as the EQE has a trunk, versus the hatch style that you would find in the EQS.
Fun Fact! While in the trunk, owners will be thrilled to find the covered extra storage space located on the floor of the trunk. This spot is perfect for charging cables, extra luggage, Mercedes-Benz accessories, or even more personal items as it is a covered, separate compartment.
The Mercedes-AMG® EQE has a dashboard that can be trimmed with wood or with a sleek gloss-black trim. The Hyperscreen is optional, but if selected, 3 screens will paint themselves elegantly across over 56 inches of curved glass. The Heads-Up display is included in the Hyperscreen, and drivers can triangulate the 3 screens. The next-gen technology is impressive to say the least, giving drivers and passengers the option to display various navigation elements, ensuring the best driving experience possible.
The passenger screen (found in front of the passenger on the digital dashboard) on the MBUX Hyperscreen has an AMG® screensaver when not in use. The passenger screen will deactivate and switch to a screensaver until the dedicated cameras track and confirm a passenger is seated. This is great to highlight as consumers worry about the next steps of such innovative technology; Mercedes-Benz of Smithtown is very impressed with this new feature and safety feature!
Fun Fact! Drivers and passengers can pick any picture they'd like to display on the passenger screen!
Although the tell-tale signs of a Mercedes-EQ electric vehicle showcases a solid light bar and black gloss grille, the Mercedes-AMG® EQE lacks the solid light bar across the top of the grille, which can be found on the Mercedes-EQ EQS.
Customers might not realize how much quieter electric motors are in comparison to the gas-powered counterpart. Swift yet silent, the Mercedes-AMG® EQE is noticeably inaudible. This is due to the location of the electronic battery, as well as due to the powertrain carrier. Both of these components are located within damped subframes, which reduces noise. Another reason for this EV's stealth is the rerouted climate-control and plumbing for the vehicle's cooling, which eliminates fluid-bubbling noises.
Expanding on the silence that the Mercedes-AMG® EQE delivers, Mercedes-AMG® has created the AMG® Sound Experience. This auditory stimulation makes up for the natural occurrence of fossil-fueled acceleration. The engine start-up, race-start, drive-sound and engine shutdown all have dedicated virtual noises to mirror the expected noises found in gas-powered engines. This system uses special speakers, a bass actuator, and a sound generator to deliver the "trademark roar" that is expected when behind the wheel of an AMG®. When purchasing the Dynamic Plus Package, there is a new set of sounds titled "Performance."
Mercedes-Benz of Smithtown would like to emphasize once more the role AMG® has within this amazing car. The Mercedes-AMG® EQE comes with AMG®-specific electric motors, AMG® RIDE CONTROL+ suspension with adaptive adjustable damping, the aforementioned AMG® Sound Experience and an app that is available in the Apple App Store, "AMG® Track Pace MBUX App."
The door handles fold out from the body and when entering the vehicle and there is a specific invitation sound and welcome screen. When you start up the Mercedes-EQ EQE 53 4MATIC®+, the headlights activate and showcase the Mercedes-Benz star on one side, and the AMG® logo on the other headlight:
The interior is a full Alcantara interior, with optional carbon fiber centering. There is also a wireless charging pad located in the center console with two additional USB-C connectors. As this is an AMG®, the seats are the renowned sporty AMG® seats with the classic metal AMG® logo. These seats have a Nappa leather option, which would match the Nappa leather wrapped steering wheel.

Another next-gen, intriguing new feature is the electronic Dynamic Select Switcher which is located on the left side of the steering wheel. This cylindrical touch-screen button, which looks similar to a push-to-start button, not only allows the driver to switch between drive modes, but other features as well, such as raising the vehicle's level, viewing the vehicle from the front or rear with the 3D view, the overall 3D view of the vehicle, Energy Glow, Charging, Drag Race and Track Race.
The Mercedes-Benz EQ EQE SUV
The Mercedes-Benz EQE SUV from Mercedes-EQ is anticipated to launch in 2023. The world premiere of this EV SUV will take place on October 16, 2022. Mercedes-Benz of Smithtown will update our customers (and our informative webpage) as more details get released from Mercedes-EQ.
The EQE is considered the "multi-purpose variant" sedan and has the most spacious cabin when it comes to headroom, legroom and elbow room, according to Mercedes-EQ. The ride height has also increased with a larger endurance for more difficult terrains.
The interior of the Mercedes-Benz EQ EQE SUV borrows styling advice from the Mercedes-EQ EQS sedan. The MBUX Hyperscreen is an optional feature, but looks wonderful in combination with turbine-inspired outer vents, venting band that spreads itself across the dashboard to both of the driver doors, and the hybrid trim elements on the center console that samples real aluminum trimming. To put the cherry on top of luxury, there are integrated door openers on each front door.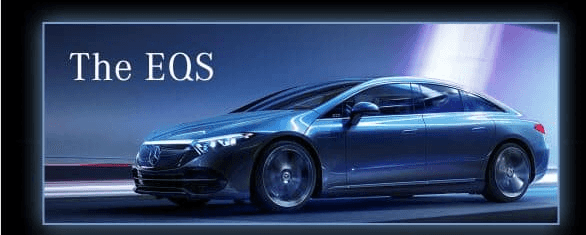 The 2022 EQS will be available in two trims: the 2022 EQS 450+ Sedan, a rear-driver powertrain model, and the EQS 580 4MATIC® Sedan, the all-wheel-drive model, featuring highly advanced technology, top-of-the-line luxury while delivering peak and optimum performance.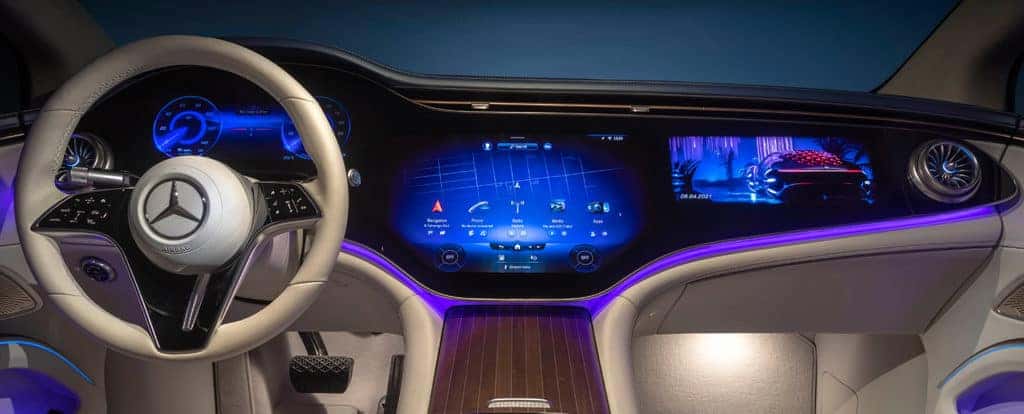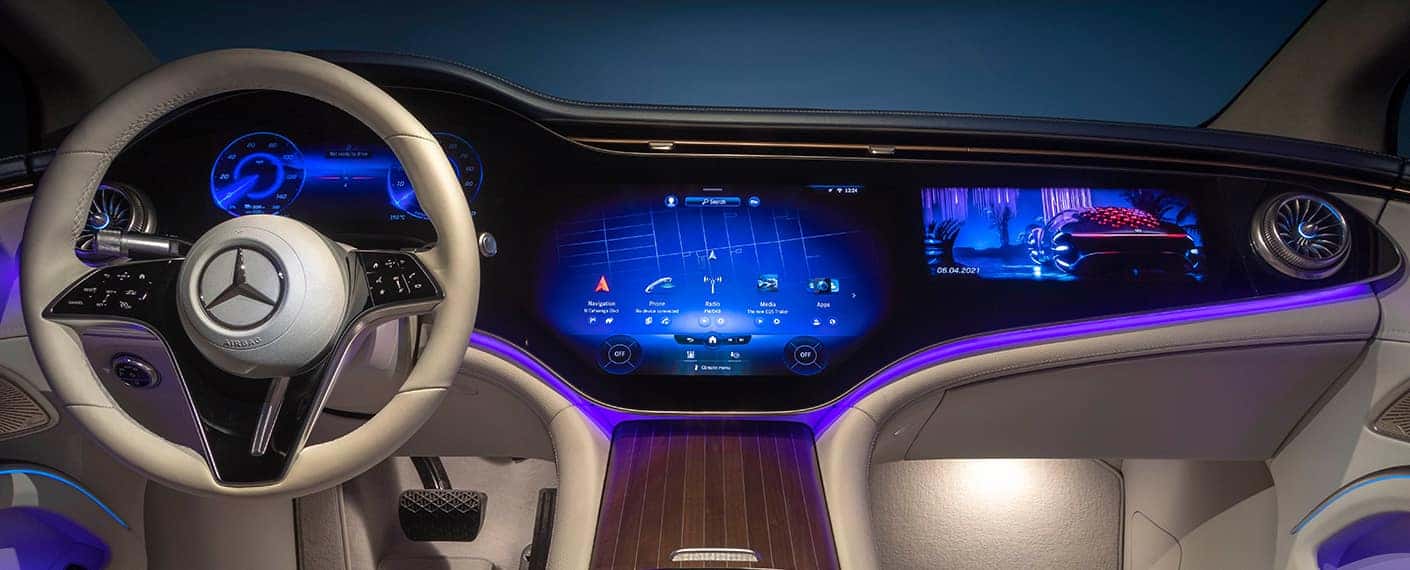 The 2022 EQS models operate on an adaptive air suspension that allows the vehicle to automatically raise and lower itself, providing a smoother ride for its passengers. Moreover, the standard rear-axle-steering will enable the driver to maneuver the car in tight spots more efficiently while increasing stability at higher speeds.
Powered by a 107.8-kWh lithium-ion battery pack, the 2022 EQS models offer a driving range of approximately 478 miles. In addition, the cars utilize a 240-volt (Level 2) charger that will take about 11 hours and 15 minutes for the battery to charge fully and charge more efficiently while using a DC fast charger.


When it comes to the interior of the 2022 EQS models, not a single detail is spared – featuring various luxurious features such as extensive ambient lighting, in-built massage functions while complementing with headrest pillows for both you and your passengers.
The Hyperscreen steals the show as it is composed of a single 56-inch piece of gently curved glass, revolutionizing and integrating infotainment with artificial intelligence through an adaptive display and operating system. The Hyperscreen with the MBUX Infotainment System includes a 12.3-inch gauge cluster, 17.7-inch central touchscreen, and a 12.3-inch passenger touchscreen.


Most importantly, the 2022 EQS will include the standard Mercedes-Benz driver-assistance technology such as the Parking Assist, Brake Assist, Adaptive Cruise Control, and so much more for your safety.
We are waiting on the edge of our seats at Mercedes-Benz of Smithtown to have a close-up look at the 2022 EQS models in person. Watch this space as we update more details upon the much-anticipated arrival of the 2022 EQS.



The 2022 Mercedes-EQ AMG® EQS Sedan finalizes the sedan category for the EQS. This EV is a force to be reckoned with! This dual-motor machine can go 0-60 in 3.4 seconds, with 649 horsepower (751hp when combined with Boost), 700lb-ft of torque (752 with Boost). This sedan means serious business!
The Premium Trim (entry level) for the Mercedes-EQ AMG® EQS sedan starts at $147,500, the Exclusive Trim for this speedy sedan starts at $148,250 and the Pinnacle Trim starts at $151,050. There are so many incredible features that these trim levels include, with over 88 additions for each trim level, Mercedes-Benz of Smithtown has the official link for every new element here, from Mercedes-Benz USA.
It is important to note that this is the AMG® version that includes but is not limited to:
Dual AMG®-specific electric motors with boost function
AMG® Performance 4MATIC®+ All-Wheel Drive
Intelligent Energy Recovery with Paddles
ECO Assist feature
AMG® DYNAMIC SELECT
AMG® Drive Unit
AMG® Dynamic+ Package
Intelligent Thermal Management
AMG® Ride Control+ Air Suspension
Electromechanical Power Street
9-degree Rear Axle Steering
AMG® high-performance compound brake system
There are also options for the AMG® Carbon Ceramic Front Braking System and red-painted brake calipers.
The 2023 Mercedes-EQ EQS SUV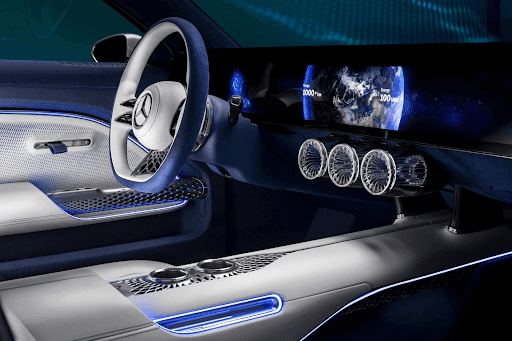 Please welcome the first of its kind, the 2023 Mercedes-EQ EQS SUV! This is the first all-electric luxury SUV released by Mercedes-EQ! This exciting innovative SUV is 7.8 inches taller than the EQS, more roomier, and with more headroom for its occupants! There is optional third seating if more space is needed. The mesmerizing 64-color ambient lighting has a new, EQ-specific color scheme.
There are two trim levels for the 2023 Mercedes-EQ EQS SUV, the Mercedes-EQ EQS SUV 450+, which has 355hp, and the Mercedes-EQ EQS SUV 580 4MATIC® with 536 horsepower.
Much like the Mercedes-EQ EQS, this electric SUV has an available MBUX Hyperscreen, spanning 56" from door to door! This technologically advanced screen has Haptic feedback in the center and passenger displays, as well as Electric Intelligence navigation! Electric Intelligence navigation is a newly designed Mercedes mind that helps you plan the fastest, most efficient route, while taking weather, topography, traffic and driving styles into consideration. This is such an exciting and efficient feature as it can also pinpoint and embed ideal charging stations along the route, so drivers don't have to compromise a single mile.
The rear-axle can steer up to 10 degrees, in combination with the new Off Road mode in the Dynamic Select package, the SUV can be raised so it can tackle higher terrains.The Digital Lights found in the headlights are able to show you the way, regardless of regal pavement or rough offroading.
The 2023 EQS SUV features:
New-gen MBUX Multimedia System with Augmented Reality Navigation
Natural Language Understanding and Keyword Activation ("Hey Mercedes")
Available MBUX Hyperscreen with three displays under single 56" curved glass surface
Biometric Authentication
64-color Ambient Lighting with a new EQ-Specific Color
Over-the-air updates
DIGITAL LIGHT
Burmester® 3D Sound System including the:
Dolby Atmos Sound System with a 360-degree sound experience with two standard all-new soundscapes: Silver Waves and Vivid Flux
Rear-axle steering up to 10 degrees
AIRMATIC® Air Suspension with Adaptive Damping System
Dynamic Select including Eco, Comfort, Sport, OFFROAD(4MATIC® version) and Individual driving modes
Active Ambient Lighting
Driver Assistance Package with Active Distance Assist, DISTRONIC, Active Lane Keeping Assist, Blind Spot Assist, PRESAFE® PLUS and PRESAFE® Impulse Side
Get Charged Up!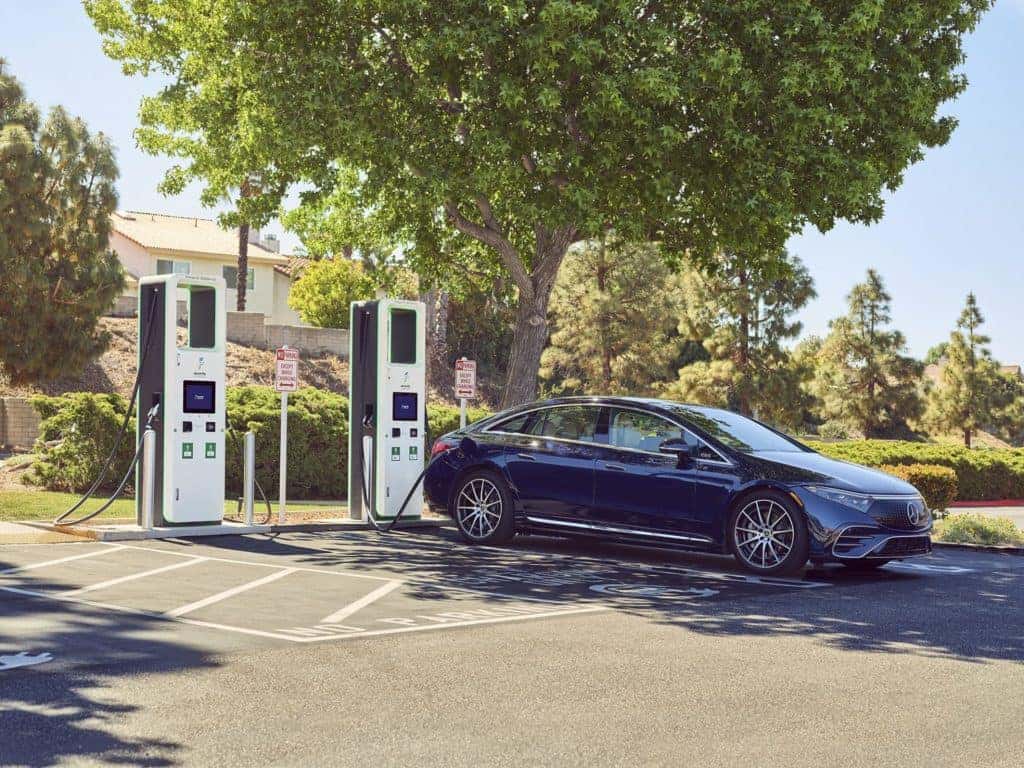 We have discussed how these powerful and innovative batteries are housed and perform, now let's get into how they get charged up!
Charging these innovative vehicles can be as smooth of a process as the gorgeous EVs themselves. For the first two years of ownership, Mercedes-EQ drivers receive complimentary 30-minute charging sessions with Electrify America's DC Fast-Charging stations. There are almost 60,000 public charging stations available for drivers!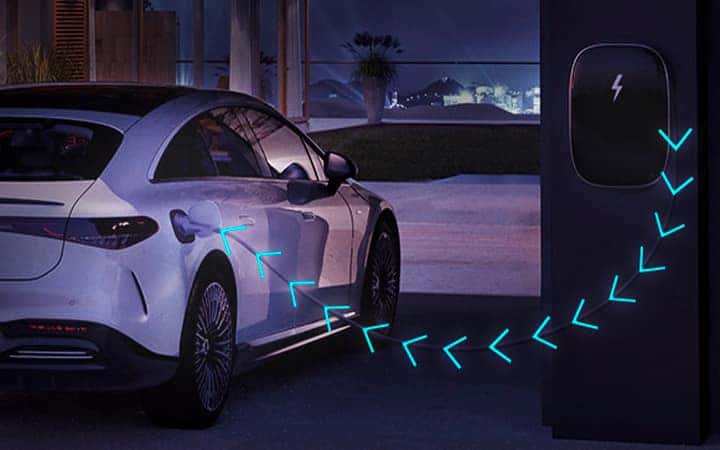 If customers find themselves wanting a charger that is a little bit closer to home, the EQB (and all Mercedes-Benz EV vehicles) charges through a standard AC power from either a household socket or a Mercedes-Benz Wallbox. Mercedes-Benz and Mercedes-EQ recommends the ChargePoint Home Flex installed by Qmerit.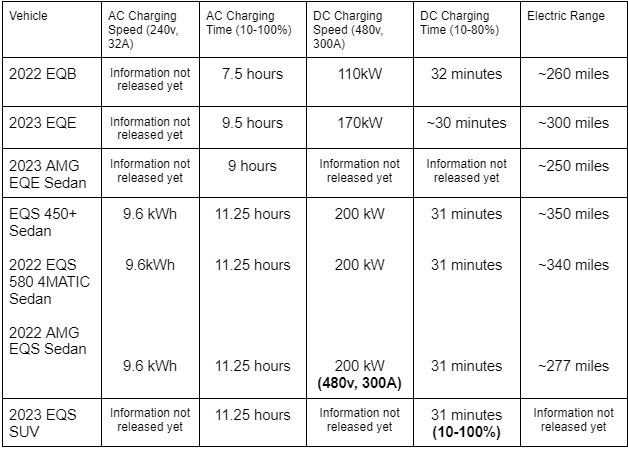 Technology and its innovations are coming to Long Island, New York before Mercedes-Benz of Smithtown can even put the car in park! We don't mind, we are excited for the future to hop into the passenger seat and join everyone at Mercedes-Benz of Smithtown as we continue the journey together. As previously stated, check back to our EQ Lineup page frequently as new specs and more furbishing gets released! With such an impressive wide range of electric vehicles, Mercedes-Benz of Smithtown is honored to be your source for Mercedes-EQ information. We hope our customers, both new and already established, get together with Mercedes-Benz of Smithtown to partake meeting the innovative future.
Visit Mercedes-Benz of Smithtown on 630 Middle Country Road in St.James today to speak with a Sales Consultant about becoming one of our Happy Customers. Call us today at 631-265-2204 to schedule your appointment.