What's Different about the 2021 S-Class?
The 2021 S-Class has been teased to us for months now but the time has now finally come for the big reveal. Yesterday morning, Daimler showcased the luxury sedan's new features that will set the precedent for newer cars to come and will be the flagship face of Mercedes-Benz and their newest innovations.
What's Under the Hood?
Two different engine versions will be available for shoppers in the Smithtown area depending on what they are looking for. 
A powerful 3.0L turbocharged inline engine which will make up to 429 horsepower, and 384 pound ft of torque with the EQ Boost will be included in the S 500 4MATIC®. 
A Muscular 4.0L turbocharged inline twin-turbo V8 engine will be included in the S 580 4MATIC®, creating 496 horsepower, and 516 pound feet to help you zoom through any road while in Kings Park. 
Although the engines will be modified, consumers can expect to have the impressive standard air suspension. Both cars will also have All-Wheel-Drive, 48V electrical architecture, and a 9 Speed Auto Transmission, giving the 2021 more power than anything that's come before it . What else is new you might ask? E-Active Body Control suspension previously seen in the GLE and GLS is now featured in the new S-Class. This will regulate damping and spring force at each wheel. The car will also now include a Four-Wheel Steering System that will cut down on the vehicle's turn radius to make the new flagship car more agile on curvy and winding roads, such as the ones you may have driven on in Farmingville.
Exterior
Now, looking upon the new S-Class, the first thing you'll lay eyes upon, is the beautiful and invigorating newly-designed exterior. Key features of the outside of the new vehicle include:
A familiar large traditional sedan body
New grille shape for balance
New Headlights with a three-dot LED running light program
Tail Lamps have now been switched from vertical to horizontal in a new subtle triangle shape with new LEDs that bleed around the edge of the rear bumper to accentuate style
Lowered Rear marker lights to help show off subtly wider exhaust tips
Other than these key features, the classy car is now slightly larger with the following measurements:
208.2 inches long
76.9 inches wide
59.2 inches tall
Wheelbase: 2.0inches longer, meaning aesthetically pleasing shorter overhangs. 
This makes the car larger by 1.3, 2.1, and 0.4 inches interestingly. Wheels will also be available in sizes ranging from 19"-21" with the AMG Package. 
Interior
When we think about an S-Class we all think about the lounge-like signature high-end interior, and the millions of additional luxuries that they include. The 2021 S-Class will not disappoint for those who love living grand and lavish. The interior includes many features such as:
Less physical buttons due to the giant 12.8 inch touchscreen
HVAC buttons now are on the included screen
Space behind the massive touchscreen to store your phone, and plenty of space in the Center Console to stow away bigger items
Stunning but subtle horizontal and vertical vents for air flow
Faster warm-up time due to a booster heater powered by the 48V system for those cold Lake Grove nights
Heated and Ventilated Seats, plus a Heated Steering Wheel, and armrests to keep you cozy on your commute to Ronkonkoma
A new fragrance system, featuring scents such as "Bamboo Mood" & "Cotton Mood" to help relax and calm you, or also for when you might smell the fish while passing by Port Jefferson Harbor
A Digital Instrument Cluster with a revolutionary 3D Effect that comes with the 3D Technology Package. 
Heads-Up Display now projects Augmented Reality onto the road in front of you, making Mercedes-Benz Navigation even more convenient
The Panorama Sunroof now can be magically opened/closed with just a wave of your hand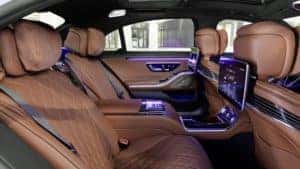 https://www.autoblog.com/2020/09/02/2021-mercedes-benz-s-class-revealed/#slide-2261151
Although all these features are great, we all know that the back seat of an S-Class is also one of the best places to be. The backseat now has more legroom and slightly more recline, making this the most comfortable S-Class to date. With classy touches such as the Open-Pore Wood, Brushed Metals, Pinstripe Designs, Piano Black Trim, or even the Illuminated Seatbelt Buckles, you just can't go wrong. Safety is still a priority to Mercedes-Benz with their fitting reputation. The 2021 model will include a new Rear Seat Frontal Airbag to make you feel even more at ease than you already will with the Energizing Seat Kinetics, and Heated Headrest Cushions that will be available too. If you thought all that was amazing, wait until you hear about the revolutionary optional Burmester 4D Surround Sound System. This newcomer will feature 30 speakers that will be metal and backlit onto the doors and pillars. Along with the numerous speakers, it will also include 8 resonators. What makes this system so revolutionary though is the "4D" aspect of it. The vehicle teamed up with the Burmester Sound System will allow you to feel the music coming from your seats. You will be fully immersed and isolated if you were not already by sitting in the S-Class. Ofcourse, this feature could be turned off and the setting could be saved by using the sound profiles feature that will allow users to utilize their different preferences when it comes to the music settings in the car. This makes the S-Class so incredibly versatile and personalized. Back seat riders can also have up to three screens, one on the back of each front headrest, and one Android software tablet, all equipped with the new and improved MBUX Infotainment System that we will delve into in a moment. Not only will they have the infotainment system at their fingertips, but those in the backseat have just as much power as those sitting in the front due to the new capability for them to use "Hey Mercedes" now too! 
MBUX Upgrade
Innovation and technology have taken several leaps forward hand-in-hand, due to Mercedes-Benz. As we had mentioned before, the MBUX system is all brand new, and is chock-full of never before seen features. The following has been seen to be included:
MBUX Profiles: Users can create up to 7 profiles on the system for preferences and data such as settings, addresses, seat configuration, presets, and etc. These profiles are accessible via voice authentication, facial recognition, fingerprint, or even just a PIN.
More commands: MBUX will recognize more phrases, without having to say "Hey Mercedes,_____" prior. EX: "Decline call."
Chit Chat feature: Users will be able to talk to the Hey Mercedes feature in a fashion akin to Siri featured in Apple products.
Toll Transponder Integration: makes going through tolls easier: MBUX stores information and relays it to the sensors.
50% faster processing ! The MBUX system is faster than ever.
Convenience
The MBUX system sure does make life easier, but the S-Class is all about surpassing expectations. The S-Class also features a wide range of programs that assist the driver such as :
Active Steering Assist up to 130MPH
Adaptive Cruise Control– now has an improved stop maneuver from speeds up to 80mph, previously 35mph. 
Predictive Speed Regulation
64-Color Ambient Lighting: now uses warning colors to help inform you of when you may be too close to an oncoming vehicle
Driver Facing Camera for intuition and assistance
Active Parking Assist: Includes a 360-degree camera and also automatic perpendicular and parallel parking
The S-Class finds any way to try and make life a breeze for whoever is driving or even riding in it. We are absolutely overwhelmed with excitement for the 2021 S-Class to hit showrooms in the first half of 2021. Can't hold your excitement? No worries, we got your back! Stay updated with our website, and even our Instagram to be the first to know when the new luxury sedan hits our dealership floors.
*Information from this article was sourced from both Autoblog and Cnet, check out their wonderful articles as well!*