Vision EQXX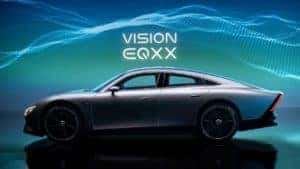 Efficiency and electric range in a whole new light.
Mercedes-Benz introduces sustainability and electromobility in a brand new way. The new Vision EQXX prototype has been released and this amazing vehicle has unmatched features. This beauty can endure more than 1,000 kilometers on one single battery charge. The aerodynamics and exterior design play a major role in this. It is also very lightweight due to the use of new materials, meaning less energy to burn.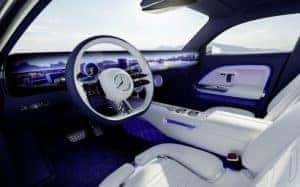 Achieving Milestones
You may recall the luxurious 2022 EQS, for holding the world record for the most aerodynamic production vehicle. The plan is for the Vision EQXX to accomplish the next milestone with its drag coefficient of just 0.17. Many features on this vehicle are going to contribute to achieving this goal. The significance of this record is because of the circumstances .. electric driving and range is normally under. Two-thirds of the electric energy is needed just to counter the air resistance. Its sleek design depicts how seamlessly air will be able to glide against its elegant exterior. The front face is smaller than that of a compact CLA resulting in minimal resistance. There are also narrower rear wheel tracks to allow the air flow to happen more efficiently. In addition to that, the wheels will have transparent external covers which will prevent nearly all air turbulence while allowing the opulence rose-gold magnesium rims to show.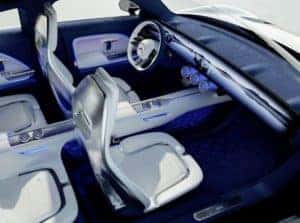 Beauty Inside And Out
Mercedes-Benz always pushes for new advancements in their interior designs. Many will be surprised at the mix of sustainable materials used for its interior. Materials such as mushrooms, bamboo, cactus and vegan silk. Mercedes-Benz has found a way to illustrate its importance of luxury and top-quality comfort without having to involve the use of animal products.
Efficiency Is The Future
Mercedes-Benz blows everyone away with how they keep finding new ways to better not only technology, style and materials but also ways to save energy. With the Vision EQXX, 95% of the energy stored in the battery reaches the wheels. This beats out the average engine by 65%. This took vital research and time. The engineering team at Mercedes-Benz worked hand in hand with motor-racing specialists from High Performance Powertrains (HPP) and Mercedes- Benz Grand Prix (MBGP) to develop the best efficient and compact electric powertrain. It was also crucial to keep everything lightweight, including the battery housing. For years, they have tried to achieve this exact product. Trying to reduce mechanical friction to a minimum so that all power reaches the race track with little to nothing lost.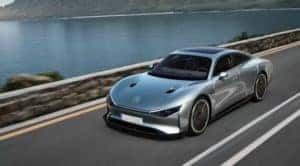 A Battery That Could Change Vehicles Forever
Typically, batteries are heavy in our vehicles. They can weigh and slow down. The energy density has been impressively improved to 200 Wh/kg. This enables the battery to store 100 kWh, while taking up half the space and weighing 30% less than batteries in other vehicles.
Overall, we await the greatness that is the Vision EQXX. It is said to be announced in 2024. You can stay tuned on our socials for updates regarding this beauty. Access more information on our blogs, Instagram, Facebook and LinkedIn. You can also custom order your vehicle through our website as well as compare different models for a better understanding of your perfect fit.
For amazing vehicles just like this one, visit Mercedes-Benz of Smithtown on 630 Middle Country Road in St. James today to speak with a Sales Consultant about becoming one of our happy customers. Call us today at 631-265-2204 to schedule your appointment.