The 2022 C-Class Sedan
Mercedes-Benz premiered its 2022 C-Class Sedan to the world and eager to see its brilliant design unveiled, people all over the world tuned in to see the new sporty and modern design of the C-Class Sedan. Making its first debut in 1993, the C-Class Sedan has undergone a multitude of significant design upgrades transforming it into the vehicle that we know and love today. This luxurious Sedan is expected to arrive at the end of May 2022.
The 2022 C-Class Sedan maintains the sporty design of previous model years while adding a variety of interior, technology, safety, and exterior upgrades.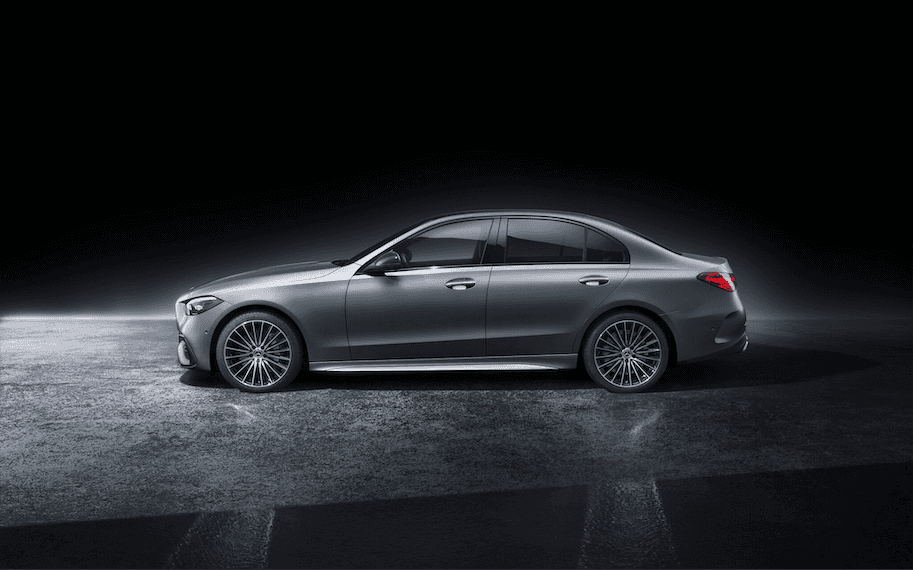 With a 2.0-liter biturbo inline-four engine, this vehicle will have 255 horsepower and 295 lb-ft of torque with the ability for rear-axle steering which offers more stability placing you in complete control of the vehicle.  The C-Class will be available as a plug-in hybrid as well with the ability to travel 100 km/62 miles.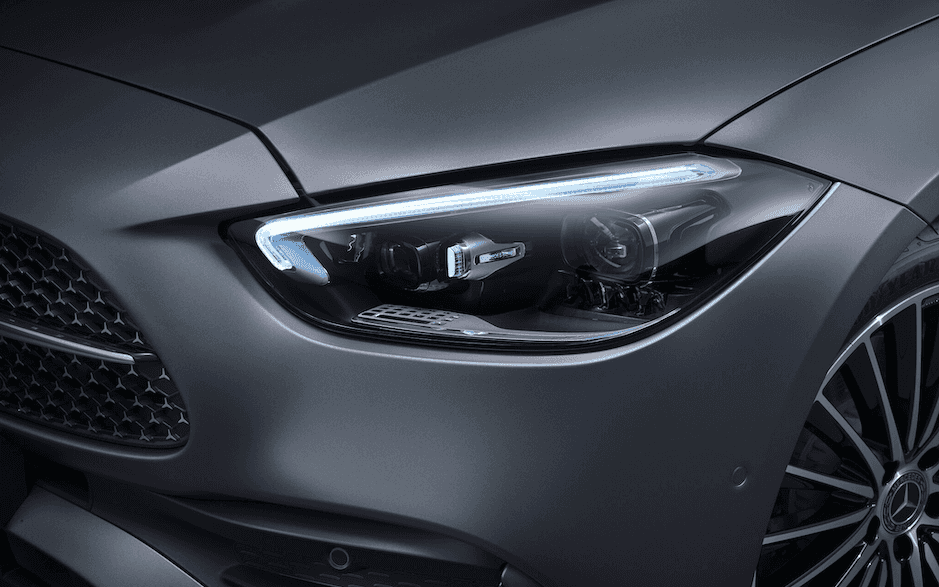 With a variety of advancements, there are significant technology upgrades incorporated into the design of the 2022 C-Class.  From Navigation with Augmented Video to Voice Assist to Artificial Intelligence, the 2022 C-Class Sedan is definitely the smartest compared to previous generations.  Similar to the new S-Class, the interior features an 11.9-inch infotainment display that is angled towards the driver to provide the feel of a sports car in the elegance and luxury of a Mercedes-Benz.  Powered by MBUX, this infotainment system elevates your experience to a new level.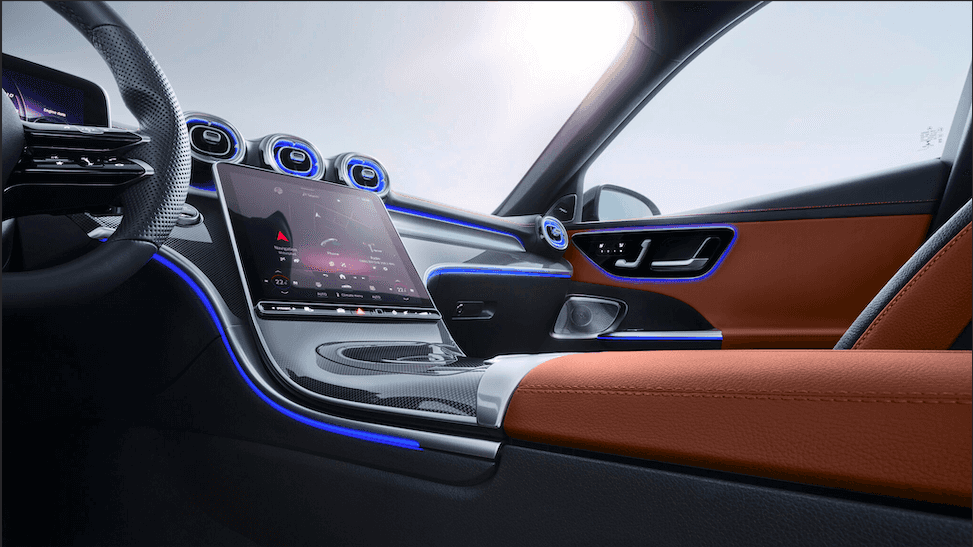 You do not want to miss the elegant and dynamic 2022 Mercedes-Benz C-Class.
Advanced technology at your fingertips! The C-Class's vivid motion screens and intuitive controls devise for the perfect cockpit. The portrait-style 11.9 touchscreen is easily and accessible for all you continent driving needs. With features like the Advanced Assist, the vehicle itself becomes aware of its surroundings to make the transition of lane-changing or just cruising on the road is much more safe and easy. The standard Blind Spot Assist also watches out for your passenger before exiting. Stay connected with the wireless Apple CarPlay and Android Auto, never worry about not being able to follow your GPS or missing out on your favorite music. This vehicle also offers wireless charging, in-car Wi-Fi, and online music streaming. 
Not impressed yet ? What about if your dream vehicle could talk to you? With the "Hey Mercedes" feature has become even smarter. It's now available in more languages as well as being more fluid in understanding conversation. Ask a simple command and your C-Class will deliver. And now you can have up to 7 profiles saved via a fingerprint scanner in the dash. All of your comfort features and settings can be remembered and seamlessly transitioned if you suddenly need to change drivers on your next trip. 
Technology that has your back and keeps you safe!
The all new GUARD 360 keeps virtual watch on the car when it's parked. The surround cameras keep an eye out for any dangers or just events that can happen when you are away from your vehicle. Life happens sometimes, and if another vehicle bumps it, it can send you an alert and save images in the car. A built-in dashcam is also available, if you'd like to stare at the luxurious interior and elegant details a little bit longer. 
Claim Back Your Power!
The C-Class is the powerful beast on the road that no one will not be able to stop talking about. Electrified with new mild-hybrid power, this vehicle is the thriller of thrills. It comes with more energy and is action packed with more responsive and more refined features. This sporty sedan will be everything and more for the fun drive you are looking for, with a new 48-volt mild hybrid system that can boost power and torque electronically. Never worry about your vehicle not having the right features for that season. The C-Class can continuously adapt to help ensure power is sent to the wheels that can turn traction into action.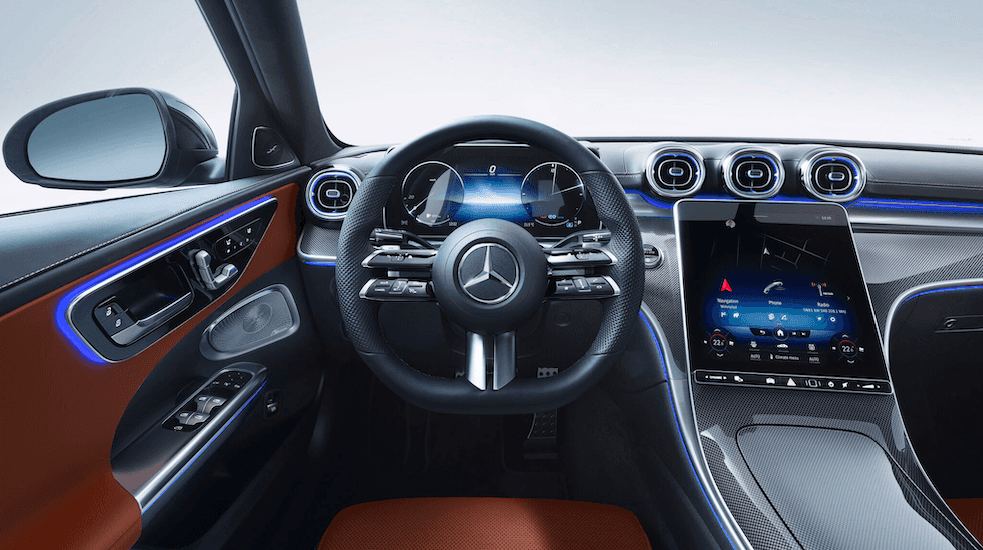 Although we must wait until the end of May 2022, for this amazing vehicle you can always…
Visit Mercedes-Benz of Smithtown today at 630 Middle Country Road in St. James to speak to a Sales Consultant about the 2022 C-Class along with our other 2022 models like the E-Class, GLA, GLC, GLE, and GLS.  Call us today at 631-265-2204 to schedule your appointment.