It's Electric! The All-New 2022 EQS from Mercedes-EQ
The wait is finally over!  The 2022 EQS from Mercedes-EQ has premiered around the world.  The 2022 EQS will be the first fully electric luxury sedan released by Mercedes-EQ.

The 2022 EQS will be offered in both a rear-driver powertrain model which will be the 2022 EQS 450+ Sedan and an all-wheel-drive model which will be the 2022 EQS 580 (4MATIC®) Sedan.  Both models will feature highly advanced technology, top-of-the-line luxury, and peak performance.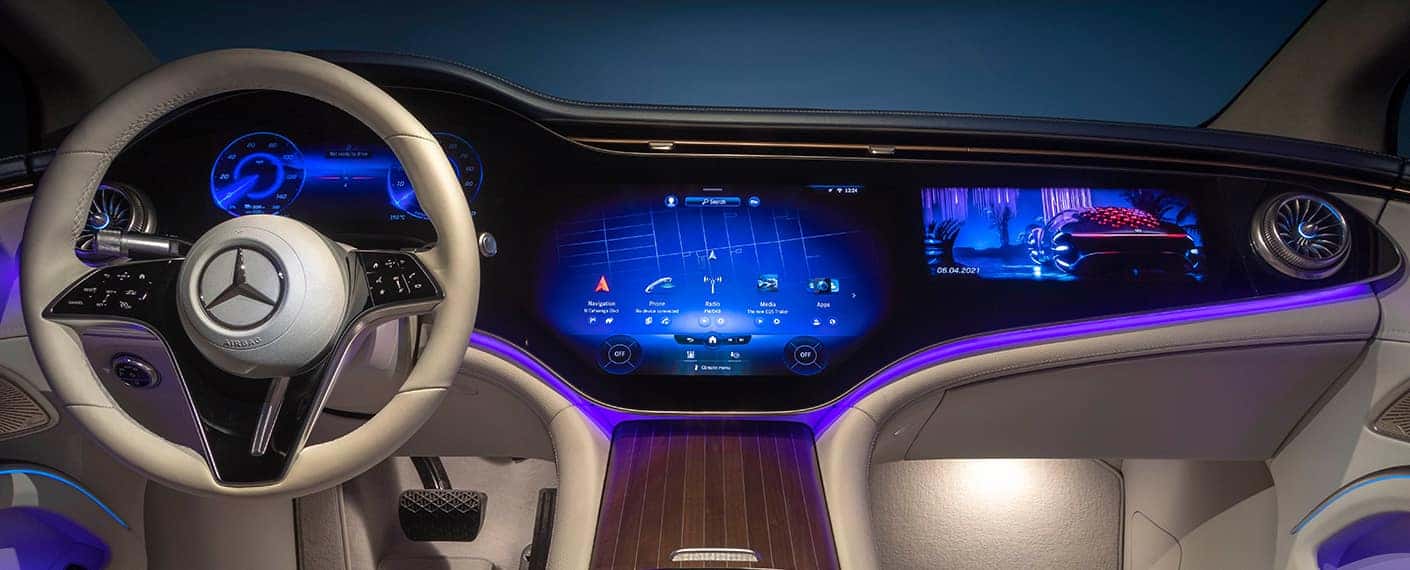 The 2022 EQS models will operate on an adaptive air suspension which means that the vehicle will automatically raise and lower itself allowing for a softer ride for passengers.  The standard rear-axle-steering will allow the driver to more easily maneuver the vehicle in tight spots and offer increased stability at higher speeds.
Powered by a 107.8-kWh lithium-ion battery pack, the 2022 EQS models will have a driving range of approximately 478 miles.  Using a 240-volt (Level 2) charger, it will take approximately 11 hours and 15 minutes for the battery to charge from 10% to 100%.  The vehicle can also charge 70% in approximately 35 minutes using a DC fast charger.

Not one single detail is spared when it comes to the interior of the 2022 EQS models.  The vehicle has so many luxurious features such as the extensive ambient lighting, headrest pillows for front and rear passengers, available massage functions, and so much more.  The most noticeable feature in the EQS is the Hyperscreen.  Composed of one single 56-inch piece of gently curved glass, the Hyperscreen revolutionizes infotainment with artificial intelligence and an adaptive display and operating system.  The Hyperscreen with the MBUX Infotainment System includes a 12.3-inch gauge cluster, 17.7-inch central touchscreen, and 12.3-inch passenger touchscreen.

Finally the 2022 EQS will include the standard Mercedes-Benz driver-assistance technology such as the Parking Assist, Brake Assist, Adaptive Cruise Control, and so much more.
We are waiting on the edge of our seats to see the Mercedes-EQ 2022 EQS models in person.  Stay tuned for the much-anticipated arrival of the 2022 EQS.
Visit Mercedes-Benz of Smithtown on 630 Middle Country Road in St.James today to speak with a Sales Consultant about becoming one of our Happy Customers.  Call us today at 631-265-2204 to schedule your appointment.