The All-New Redesigned 2022 AMG® SL Roadster!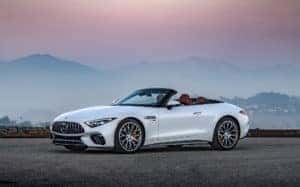 Mercedes Benz is happy to announce the ALL-NEW, REDESIGNED 2022 AMG® SL Roadster!  Expected to arrive in dealerships in early July 2022, this beauty comes with ALL-WHEEL DRIVE and a classic soft-top .. just in time for the hot sunny weather! When you wonder how on earth Mercedes-Benz can continue getting better, they drop an iconic, jaw dropping model like this one!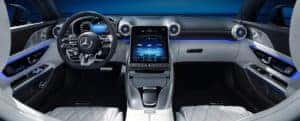 The Powerful Performance You've Been Waiting For!
An absolute beast, the SL brings an all-new level of strength to the yellow-lined road. The AMG® 4.0-liter V8 engine pushes the limits power to new extremes. As if that wasn't enough, this engine is paired with an AMG® SPEEDSHIFT® MCT 9-speed! It's heightened in responsiveness and intensifies for all thrill seeking turns! 
This vehicle wants to get accustomed to your needs. With the AMG® Dynamic Select, you have the opportunity to fine-tune the throttle, shifting, damping, steering, and more. WOW! The color display buttons on the steering wheel engage preset modes from Comfort to Sport+, or an Individual mode you can customize. 
A vehicle that remembers what you like is important.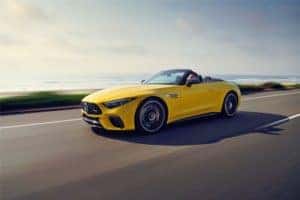 The perfect build to glide right onto the road. 
The meticulous design of this vehicle is made for the go with the flow mentality. 
From its advanced grille shutter system to a multistage rear spoiler, this beauty responds to a range of conditions to optimize cooling, minimize drag, emphasize downforce, and heighten enjoyment. 
The SL is made to enjoy the thrill seeking ride ahead. 
Outperform all vehicles on the road with the AMG® engine. Features like fuel pressure and exhaust routing are designed to heighten and intensify this SL's  thrilling and electrifying performance. This beautiful beast comes with agility in ALL-WHEEL DRIVE and dynamic ALL-WHEEL STEERING!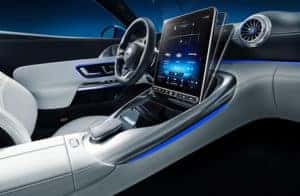 Modern Style with Advanced Technology
The Mercedes-Benz SL's architecture design is like no other vehicle. There's innovation in every aspect of this sweet ride. The perfect cockpit does indeed exist! 
The lavish interior is visually pleasing to the eye in every way, especially with its sleek and smooth design for comfort seating.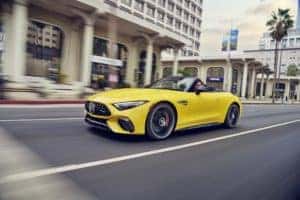 You hold the power! 
With voice or touch activated controls, you will hold the power to this beauty. Offering a large touchscreen display with crisp detailing, you can achieve all your needs from one tap on your screen. Not to worry if the top is down, the touch screen tilt-adjusts to fight the glare from the sun.
 The perfect blend of "advanced lightness, a purer sports car, a grander tourer and a openly ebullient roadster"  
This sporty exterior is a unique star of its own. Designed for greatness, its body composed of aluminum, high strength steel, magnesium and fiber composites will keep your ride safe, sleek and smooth. 
The design is also more aerodynamic than ever, cruising through tough winds at ease and enjoying the view.  Its athletic appeal is like no other. With fluid lines and a solid substance, it holds a bold and independent role on the road.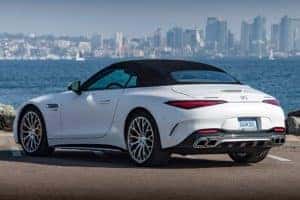 Leaving Your Worries In The Wind
You deserve to feel like a superstar, and a nice ride through the streets of Saint James with the top down is just what you need. The SL's triple-layer power soft top is like nothing you've ever seen before. To add to the lightweight appeal of the vehicle, this soft top eliminates 50 lbs. Simply give the SL 15 seconds to turn into the summer vehicle you've always wanted. The Z-form created its own rear deck and without crowding your trunk space.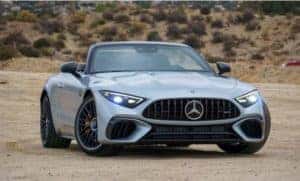 The Gift That Keeps On Giving 
The more the merrier, two seats in the front AND THE BACK! This is the first four-seater ever.
The SL appears with a coupe like finish, but is very versatile in commodious cabin space. 
The front seats make you feel important. With features like power adjustment, heating, ventilation and active massaging, we can promise .. you'll never want to leave. Enjoy the top-down even in chilly weather with AIRSCARF®. This feature allows warm air to hit the driver's neck to enjoy the convertible drive without sacrificing your comfortability. 
The Mercedes-Benz AMG® SL is coming sooner than you think and we want you to be ready. You can stay tuned on our social media for updates regarding this beauty. Access more information on our blogs, Instagram,  Facebook and LinkedIn. You can also custom order your vehicle through our website as well as compare different models for a better understanding of your perfect fit.
For amazing vehicles just like this one, visit Mercedes-Benz of Smithtown on 630 Middle Country Road in St. James today to speak with a Sales Consultant about becoming one of our happy customers.  Call us today at 631-265-2204 to schedule your appointment.