A trip to the Mercedes-Benz Stadium should be added to your bucket-list
The Mercedes-Benz Stadium, not to be confused with the Mercedes-Benz Superdome, is located in Atlanta, Georgia. The newly built stadium replaced the Georgia Dome in the summer of 2017 and became the new home of the NFL Atlanta Falcons and the MLS Atlanta United.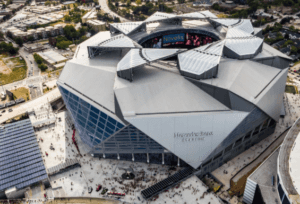 The Mercedes-Benz Stadium is designed in a very unique and exciting way, creating a memorable game-day experience for all football and soccer fans. The Architect Magazine shares with us the design and details of the incredible stadium. The Stadium's roof has 8 triangular panels that surround the stadium and retract in unison along individual tracks. The triangular shape of the panels are seen to resemble to the shape of a falcon's wing. Looking down at the stadium from an aerial view when the roof is closed, the Mercedes-Benz three-pointed star can be seen. The stadium is also designed with a variety of seating options which give fans a variety of options when it comes to purchasing tickets. However, purchasing nose-bleed seats is not a bad idea when it comes to wanting to save money and still watch the game. The Mercedes-Benz Stadium has a huge 360 degree halo video board that is built into the roof of the stadium. This huge screen provides fans with a clear view of the game from every seat in the stadium.
Guided tours are also offered multiple times throughout the day for those who want to experience the Stadium in a different way. Tour stops include the field and "skybridge," player locker rooms, art collection and the 100 Yard Club.
Now that football season is amongst us, be sure to check out the Mercedes-Benz Stadium to get the ultimate experience. The next NFL home game located at the Stadium is the Atlanta Falcons vs the Tennessee Titans on Sunday, September 29th. Be sure to check out their website for news on other upcoming events.
Stop in the Mercedes-Benz of Smithtown at 630 Middle Country Rd, St James, New York 11780, to take a look at some of our brand new vehicles such as the new 2020 GLE 250 AWD 4MATIC® or the 2020 AMG® GT. Whether you're looking for a brand new car or something pre-owned, our amazing team will readily assist you in finding the car of your dreams. Contact us at 631-265-2204 to speak with a Sales Consultant or to learn more about our vehicle specials.