Mercedes-Benz and Matchbox Create Toy Car to Inspire Girls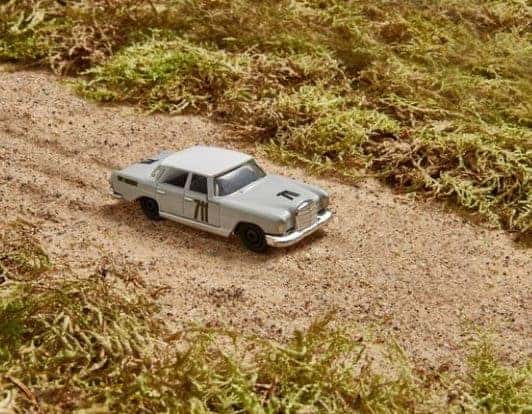 In 1962, Ewy Rosqvist was the first woman to win a long distance rally when she entered the Argentinean Touring Car Grand Prix. Rosqvist won all six stages of the rally, setting a new average speed record of 78 mph in the process. She was the first person to finish three hours ahead of the competition.
Competing in a sport that is perceived to be a mens sport, Rosqvist proved that women could handle the road just as good. Mercedes-Benz put together a short film about the Argentinean Touring Grand Prix in which Rosqvist says "they said I could never finish, so I finished first."
CarandDriver Magazine shared with us how Mercedes-Benz and Matchbox Are Giving Away an Awesome Toy Rally Car to Inspire Girls. Mercedes-Benz USA collaborated with Mattel, Matchbox's parent company, and recreated the Mercedes-Benz 220SE sedan into a toy car to share the incredible and inspirational story of Ewy Rosqvist.
Children learn gender stereotypes at a very young age. In the video "No Limits" put together by Mercedes-Benz and Matchbox, the first grade girls choose dolls and unicorns over a toy car. When asked why they didn't pick the toy car, they say things like "it's a boy toy" and "I wouldn't pick the car because I'm a girl." After being shown the video of Rosqvist winning the Grand Prix, one of the girls says "It makes me feel proud" and another says "Girls can be racers, too."
A Mercedes marketing spokesperson said the company wanted girls to "imagine all the different opportunities open to them without the restrictions of traditional stereotypes."  This year, the toy will be gifted to thousands of first-grade girls through a non-profit organization through Mattel's Dream Gap Foundation, in hopes to inspire young girls and remind them they have no limits.
Mercedes-Benz of Smithtown in partnership with MBUSA is proud to empower those who dream big. Contact us or schedule a service online for your Mercedes-Benz vehicle! Visit us at our Mercedes-Benz dealership located at 630 Middle Country Rd, Saint James, NY!