Holiday Donations 2021
Get into the holiday spirit by helping a family in need. Competition Auto group is proud to be working with EJ's PJS Pajama Drive. Make the holidays special by donating any new or unused pajamas to families in need at any one of our Competition Auto Group Locations going on now through December 15th, 2021!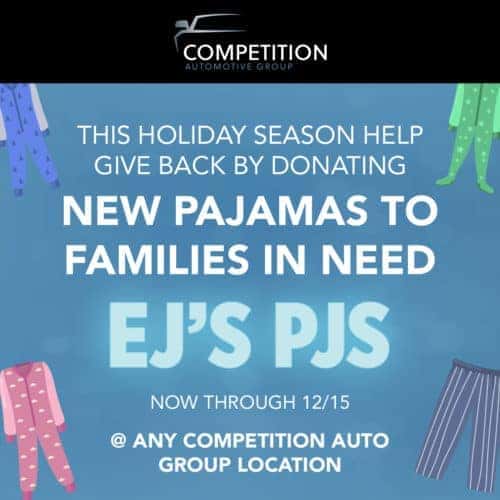 EJ's PJs started with one mission in mind – to give pajamas to children of all ages who need the items the most – and that mission has not changed in the 10 years since Patricia Poggi and her three sons, Edward, Jeremy and Patrick, started the drive. EJ's PJs began to give back to the community and to take time out of the holiday season to reflect upon what matters most in this life, which is helping others!
Holiday Toy Drive- Benefiting Angels of Long Island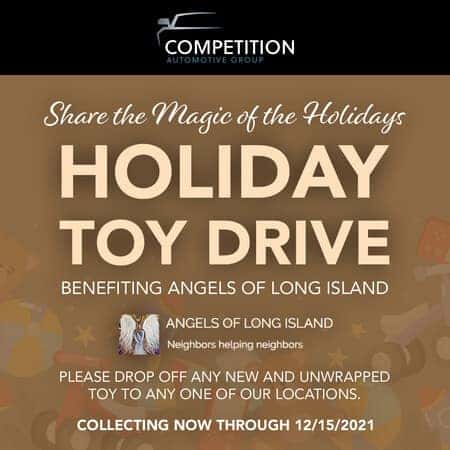 Who are Angels of Long Island?
Angels of Long Island is a non-profit organization whose mission is to assist and advocate for people in our Long Island community who are in need of assistance during this difficult economic time. Their goal is to empower people to overcome poverty and live prosperous lives. They provide a wide range of services and goods to people in crisis.
Ways you can help!
Volunteer– Angels of Long Island provide many volunteer opportunities that include in-store, during events, and personal fundraisers. Learn more about volunteering here.
Community service– They offer community service hours that are approved through the EAC Network. They also offer letters of completion for court mandated hours or community service hours needed for school and churches. Learn more on their website here.
Donate Good/Services– In their patchogue location they accept: clothing, furniture, houseware items, baby items, medical equipment, holiday decor, and other items including mattresses! New toys accepted at any of our Competition Auto Group locations. Learn more about donating here.