A Sneak Peak at the 2021 E 450 All-Terrain Wagon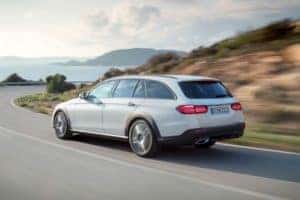 Mercedes-Benz is always switching things up and it's no different when it comes to the newest wagon that will appear in the E-Class lineup. Without sacrificing in style,safety, or comfort the new vehicle will be the first of its kind for Mercedes-Benz lovers in Smithtown. 
Exterior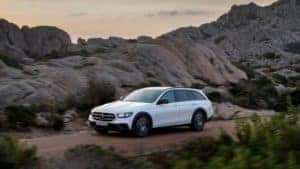 The outside of the vehicle imitates an SUV-like character but the part that usual Saint James Mercedes-Benz wagon drivers may not be accustomed to is that now the wagon will feature distinctive matte-black body cladding inspired by the modern-day crossover. Not only will the long-roofed vehicle include body cladding, but it will also include a skid plate, fender flares, and off road pretensions for those unpredictable Selden roads. With a redesigned grille, LED headlamps and taillamps, and 19" wheels (or an optional 20") complete with all season run-flat tires, this wagon is ready to tackle any type of road that you decide to take. This car is something new and fresh that we haven't seen out of a Mercedes-Benz wagon yet.
Interior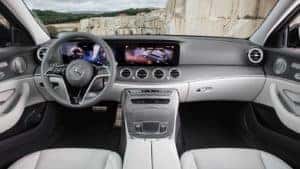 The future is at your fingertips within the cabin of the luxury wagon. With the Artificial Intelligence fueled upgraded MBUX (Mercedes-Benz User Experience) infotainment system you can use your voice, touchpad, or even the steering wheel to use the system to your advantage. With the touchpad, you have no more need to fiddle around with the twist-and-push scroll knob when trying to put in directions to the Lake Grove/Smith Haven Mall, adding to user convenience. If you still don't want to bother with buttons or a mouse-like pad, no worries, the central screen is touch sensitive. On the widescreen dual display you will find impeccable smartphone integration with either Apple CarPlay or Android Auto to help you stay on top of whatever life throws at you. Keeping with the theme of luxury, the interior still includes the 64-color Ambient Lighting that we all know and love (no matter how hard it gets to choose a color), optional Active Lane Control, Adaptive Cruise Control, and Lane Change Assist for those that decide to stay on the more manicured Port Jefferson roads in the all-terrain vehicle. Don't be discouraged by all the cutting-edge technology though, Mercedes-Benz didn't forget the good old' comfy heated front seats.
Performance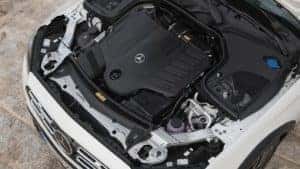 Although you might expect this wagon to be a diesel, the car uses an equally powerful hybridized inline-six cylinder engine instead. Reinforcing 362 horsepower and 369 pound-feet of torque all into a 9G-TRONIC nine-speed automatic transmission, Mercedes-Benz has exceptionally created an engine worthy of withstanding it all. EQ Boost, the 21-horsepower starter-generator, fills in low-end torque with an additional 184 pound-feet, resulting in faster reflexes and a faster acceleration despite the weight of the car. With AIR BODY CONTROL air suspension, the car feels comfortable no matter the distance you're going. It's minimum ground clearance is about two inches more than the 3.7 inches on the 2020 wagon, as well as the air suspension being able to raise it even higher than the regular E-Class making the car superbly versatile.
Hooked already? So are we! Keep in touch with our Instagram to see when the 2021 E-Class All-Terrain hits our showroom in the Kings Park vicinity, or keep in contact with our Sales Department for more information regarding the wagon that's on everybody's minds.