Wheelchair Accessible Metris Van
TransitWorks Mercedes-Benz Metris WAV
Wheelchair Access & Electronic Assist Passenger Loading System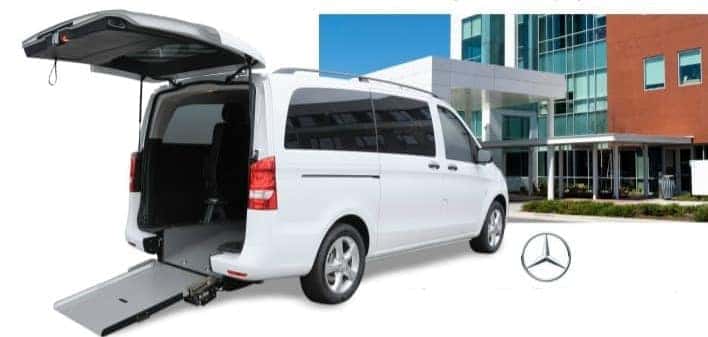 Adding ADA Compliant Accessibility and Mercedes-Benz Sophistication to Your Fleet Near Lake Grove, NY!
The all-new Metris Wheelchair Accessible Van (WAV) is designed to meet the needs of businesses and individuals in the Selden, Stony Brook, and Suffolk County areas requiring the space and flexibility that only the Metris can deliver. A combination of style and innovative engineering, TransitWorks now offers an efficient, ADA compliant, and multi-functional addition to the Mercedes-Benz Metris that's perfect for transporting wheelchair passengers and able-bodied riders.
Features of Wheelchair Accessible Mercedes-Benz Metris Van
Multi-use conversion provides for a variety of different business applications
Durable, rear access ramp with 800 lb weight capacity and fold flat capabilities
ADA compliant for commercial use
Electronic assist front wheelchair retractors and belts for easy loading
Optional Tip & Fold third row seats that can be ordered for one or both sides
Second-row seating configuration flexibility depending on preferences
Easy to clean, wear resistant flooring
Can be built on Mercedes-Benz Metris chassis with hinged rear doors or rear hatch liftgate
Mercedes-Benz style and sophistication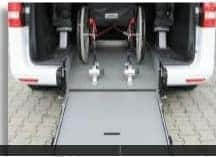 Electronic Wheelchair Assist
The Metris WAV comes equipped with an automatic tensioning system that assist with loading and unloading a wheelchair passenger. Rear securement retractors provide an efficient, easy-to-use, 4-point tie-down system.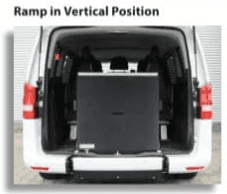 The tailgate can be closed with the access ramp in a vertical position, leaving sufficient space for an empty wheelchair or other cargo.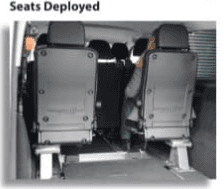 With the access ramp fully folded away and the rear seats in their original position, the vehicle can be used as a standard vehicle.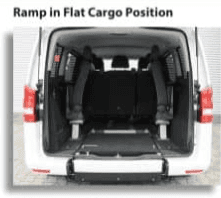 With seats stowed, the Metris WAV ramp can be folded down to create a level floor for additional storage space.
Benefits of Mercedes-Benz Metris WAV Upfit
The Metris Wheelchair Accessible Vehicle (WAV) offers a cost-efficient option to business customers on Long Island, NY that need one vehicle to work for a variety of needs, including the transport of wheelchair passengers.
Ramp and wheelchair securement area meet ADA requirements necessary for commercial transportation
Easier to load in driveways, one-way streets and standard parking spots, which is perfect for driving in New York!
Automatic tensioning assists with loading wheelchair passenger into van – wheelchair will not roll back if driver loses grip while pushing.
Ramp folds flat, allowing for level cargo storage area.
Two Tip & Fold seats increase seating to 7 passengers when not transporting a wheelchair passenger.
Come Explore Our Mercedes-Benz Commercial Vans Near Nesconset, NY!
The Efficiency Your Business Needs with the Luxury of a Mercedes-Benz 
Mercedes-Benz of Smithtown is one of the largest Mercedes-Benz Commercial Dealerships in the Northeast Region.  With an extensive inventory of Sprinter and Metris Commercial Vans, Mercedes-Benz of Smithtown has everything you need to keep your business running efficiently.  We offer a wide range of Sprinter and Metris vans available in both Cargo and Passenger styles with a variety of options such as different wheelbases, gas, diesel, payloads, and so much more.  
Our knowledgeable and friendly Sales Consultants are eager to assist you with matching your Sprinter or Metris van to your business' exact needs.  With options to add Refrigeration, Wheelchair Accessibility, HVAC & Plumbing, Electrical/Telecom, and Lifestyle features, upfitting your Sprinter and Metris van have never been easier.
Mercedes-Benz Sprinter and Metris vans could help your business qualify for significant tax deductions that would save you and your business money.  Additionally, Mercedes PRO Connect aims to maximize connectivity and minimize inefficiency for your business by working both remotely and onboard to assist with efficiency, intelligence, and safety.  
Call Mercedes-Benz of Smithtown today at 631-265-2204 to speak with one of our highly qualified Sales Consultants about our Sprinter and Metris vans and visit us at 630 Middle Country Road in St. James near the Smith Haven Mall.