The 2021 Mercedes-AMG® GT Black Series
The new 2021 AMG® GT Black Series pushes the boundaries of AMG® with an unprecedented level of power and performance making this the most AMG® AMG® vehicle in the Mercedes-Benz collection.  This road-ready vehicle exceeds the power, agility, and style of previous Black Series vehicles, and can only truly be tested on a closed track to experience its full range of capabilities. 

Configured by Affalterbach's engineers, the Mercedes-AMG® GT Black Series is equipped with the most powerful AMG® V8 engine to deliver the optimal level of firing at minimal displacement.  The 2021 AMG® GT Black Series achieves 720 horsepower and 590 lb-ft of torque, races from 0 to 60 in only 3.1 seconds, and reaches 124 mph in fewer than 9 seconds.  Containing the most intelligent combination of materials and boasting the most impressive driving dynamics, the GT Black Series captures the real thrill of the race making this the most powerful and aerodynamic AMG® ever.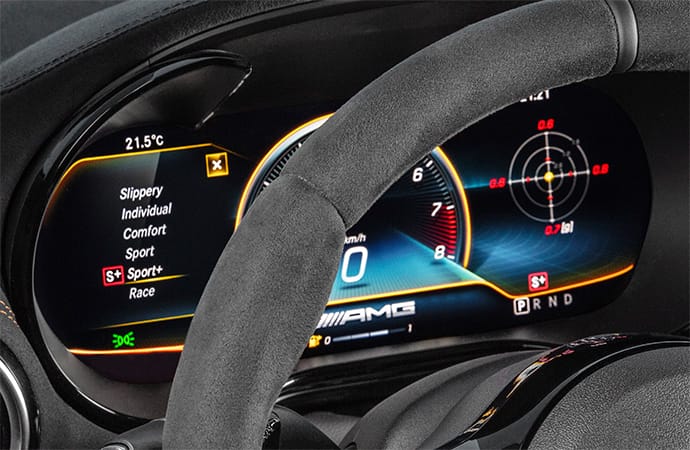 This sleek vehicle has been deliberately sculpted and refined to achieve the highest output and purest dynamics with wide radiator intake that eliminates the need for separate intakes near the wheel wells.  Utilizing semicircular flics and air curtains to increase the downforce, the AMG® GT Black Series features large, carbon-fiber outlets on the hood of the vehicle to provide additional assistance with improving downforce and high-speed control.  Mechanically adjusting to driving conditions,  the rear spoiler provides the optimal balance between speed and stability.  The GT's AMG® coil-over suspension and AMG® RIDE CONTROL ensure the highest stability and comfort even when the AMG® GT Black Series corners or brakes at high speeds.  

Key Performance Features:
All-new 4.0L V8 biturbo engine
720 hp and 590 lb-ft of torque
0-60 mph in 3.1 seconds, 0-124 mph in less than 9 seconds
Top speed of 202 mph
Reinforced AMG® SPEEDSHIFT®Ⓡ DCT 7G dual-clutch transmission
AMG® coil-over suspension with AMG® RIDE CONTROL adaptive adjustable damping
Front diffuser with two manually adjustable settings: "Street" and "Race"
Mechanically adjustable rear spoiler blades

Key Design Features:
New, larger radiator trim adapted from the GT3
Exclusive nappa leather/DINAMICA microfiber interior design with orange or silver contrasting topstitching 
Standard AMG® Performance seats
AMG® Performance steering wheel
Aluminum instrument panel 


The new 2021 AMG® GT Black Series will be released in the upcoming months, so stay tuned as the AMG® GT Black Series is a high performance vehicle that you do not want to miss.  In the meantime, visit Mercedes-Benz of Smithtown on 630 Middle Country Road in St. James to speak with a salesman about our other AMG® Mercedes-Benz vehicles.