1938 Mercedes-Benz 540K
At the 2019 Amelia Island Concours this past weekend, the 1938 Mercedes-Benz 540K was honored with first place, winning Best in Show in the Concours d'Elegance.
A rare Autobahn-Kurier model, the Mercedes-Benz 540K, the car sported an ingenious, streamlined body and a 5.4 Liter supercharged v-8, to blow past other vehicles. Built on the W29 chassis, just 761 cars were built, and a mere 419 were made with the supercharged 5.4 Liter engine between 1934 and 1939. A 1937 Mercedes-Benz 540K Special Roadster went for $9.9 million at the 2016 RM Sotheby's Scottsdale auction.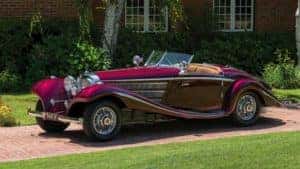 Dimensions:
Exterior:
Length: 206.5 inches
Width: 75.0 inches
Height: 65.0 inches
Wheelbase: 129.5 inches
Front track: 59.5 inches
Rear track: 59.1 inches
Ground clearance: 8.0 inches
Tires:
0-60 time: 16.4 seconds
Top Speed: 105 mph
180 horsepower at 3,500 RPM
318 lb-ft at 2,200 RPM
Features:
Engine Location: Front
Drive type: Rear Wheel
Production years for series: 1934-1941
Price: $7,500
Weight: 5,720 lbs
Averages at the time:
The average car cost: $760
The average household income: $1,780
The average home: $4,100
The average gallon of gas: $0.10