Mercedes-Benz Brake Repair Services

Do You Need Brake Repair in Smithtown?
Brake pads are items made to wear out over time, so getting them replaced is very much a necessity. Following the Mercedes-Benz guidelines is always idea, to ensure actuate mileage of when to get your brake pads changed depends on exactly what Mercedes-Benz Model vehicle you drive.  Mercedes-Benz brake pad replacement  can also vary based on how you drive, the type of vehicle, and the conditions you're driving in.
Driving habits can greatly affect the condition of your brakes and when you should replace them. For instance, if you tend to brake hard and stop abruptly frequently, this can lead to more worn-out brake pads. Driving in the Manhattan, or 5 o'clock traffic on the LIE with lots of stop and go traffic, can also wear out the brake pads more quickly as you are using them more often. The material and hardness of your brake pads can also affect how long they will last. Our technicians at Mercedes-Benz of Smithtown  will be able to find just the right pair of brake pads for your vehicle.

How Often Should I Replace My Mercedes-Benz Brake Pads?
If you're unsure about when to get your brake pads replaced, it's best to have the brakes on your vehicle inspected for the most accurate assessment. Take advantage of our Complimentary Multi-Point Inspection to check your brake pads every time that you bring your vehicle in for an *oil change or tire rotation. If you notice any abnormal sounds with your brakes, such as squealing or a scraping noise, bring the vehicle in immediately for an inspection. Another sign that brakes need attention is if your vehicle shakes while you brake. This could be a sign of warped rotors, which can also be assessed at Mercedes-Benz of Smithtown.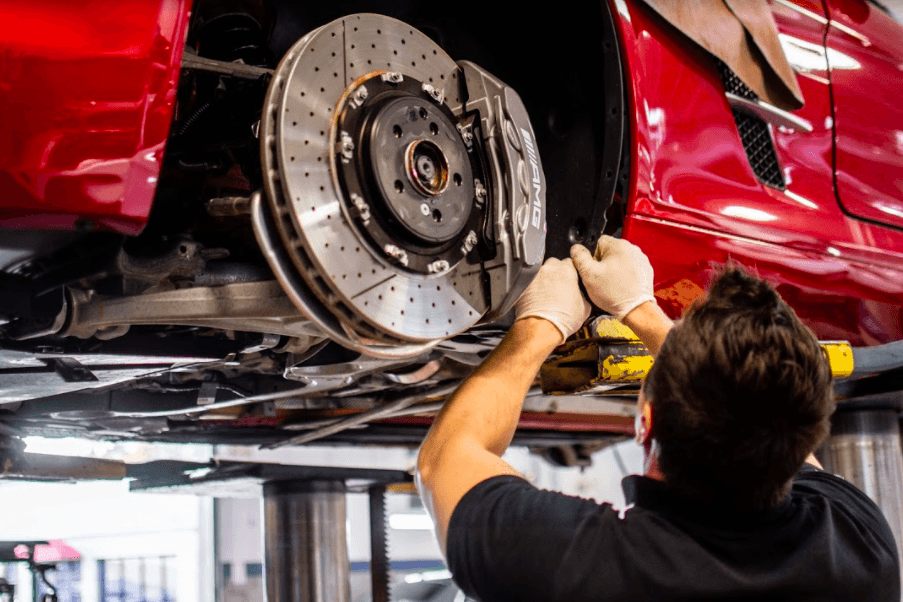 How Can I Tell If My Brakes Are Going Bad?
Often brakes will make abnormal sounds when they need servicing. It's always best to have your brakes inspected by a Mercedes-benz Technician as soon as you suspect something is astray. Here's a list of some common sounds you might hear when your brakes start to go bad.
If when you apply the brakes you hear or feel:
A high-pitched squeal
A grinding or a hard growl
A general squeaking when you stop
Pulsation in the pedal
Low initial brake bite when applying pedal pressure
Steering wheel movement when braking
It may be time to have your vehicle's brake system checked at Mercedes-Benz of Smithtown.
Schedule Brake Service At Mercedes-Benz of Smithtown

*(Oil change applies to MY08-older)