15 Passenger Van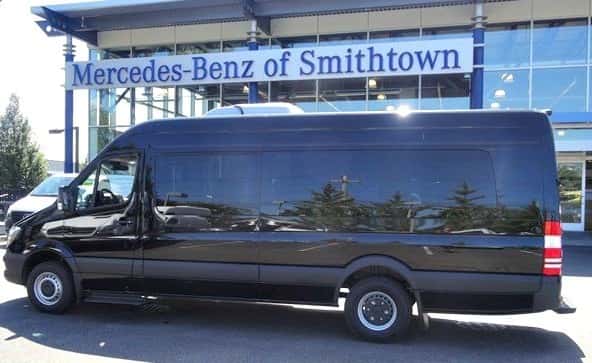 Mercedes-Benz Sprinter Smartliner
Passenger Transporter
The all-new Mercedes-Benz Sprinter Smartliner is the ideal solution for those in business to move people. Built by Mercedes-Benz Master Upfitter, the Smartliner features seating for up to 15 passengers in a center-aisle configuration, class-leading leg room, a luggage section in the rear, and all the safety and quality you have come to expect from Mercedes-Benz – all at a price competitive with other vans in the industry.
Smartliner, part of WMK LLC, is the country's leading builder of commercial shuttles, transporters and mobility vans. For nearly two decades, Smartliner has brought the most innovative, safest, and best built vans to the industry. With manufacturing facilities in Ohio and Kansas, Smartliner is building and shipping transit vehicles throughout North America.
Factory Features:
Mercedes-Benz Sprinter 170" Extended wheelbase with high roof
Back-up Camera & Back-up Alarm
Blind-Spot Assist
Automatic Light and Rain Sensor
Rear factory A/C & Heat
Privacy Glass in rear
Interior headliner, walls and trim
Grab handles on left and right inside rear doors
Rear Step
Super Single Wheel covers
Colors available: Arctic White (standard), Jet Black (+$995), and Silver (+$995)
Leatherette Front Seats
Upfit Features:
Rear seats in Black Leatherette matching the front driver and passenger seats
Center aisle configurations with rows of two seats down the left side and single seats down the right side
Black Altro non-slip commercial floor covering
Black fixed side steps at the driver door and sliding passenger door
Stainless steel stanchion grab pole at side sliding door entrance
LED lights throughout
Stainless steel rail luggage corral behind last row of seats
Optional: Deluxe Luggage partition with window and shelf for increased capacity
Optional: Reclining Seats available. 10 of the rear seats can recline for increased comfort. Last row against the luggage partition are standard (non-reclining) seats
Note: Adding reclining seats reduces the width of the center aisle to the back rows by 2"
Carpeted stainless steel luggage partition comes standard. Deluxe partition with window and shelf optional.
https://www.mbofsmithtown.com/inventory/new-2017-mercedes-benz-sprinter-15-passenger-smartliner-van-rwd-cargo-van-wdapf1cd0hp415004